Market
Objets Data
Orange - FR
Hours and dates
From 1 Nov 2018 to 4 Nov 2018 / from 10:00 to 18:00
Various projects of the SENSE team will be presented:
Black Out
With no more information than a blacked-out screen and a series of mysterious objects in motion, the player will have to be creative. His challenge ? Understand how his interaction with the mobile phone triggers the animation of the objects. Black Out is a portfolio of toys controlled by the sensors of a smartphone. Using the data collected by the sensors (such as accelerometer or gyroscope), the game invites us to question oneself and learn more on our essential and intrusive companions.
Hack Go Black
The smartphone, object incarnation of our digital life, is the perfect playground to take – or take back – the control on the continuous recording of our lives. This kit "HACK GO BACK", literally 'Hack and disappear' has been designed to approach peacefully the issue of the permanent recording of our data by our smartphones, with no paranoia nor technophobia The kit is composed of two booklets, one describing the recent history of smartphones and their sensors, the other that gives tips and tricks to play with the recording of your data by your phone. The briefcase that comes along will allow you to take control over things by making your own hacks with simple materials.
IA ex machinas
IA ex Machinas is a set of small actionable machines that allows anyone to understand key notions used in artificial intelligence and machine learning. By being tangible, the concepts become comprehensible.
(t)Rain
(t)Rain is a vintage phone booth of France Telecom that grew Intelligent. The booth recognizes you and plays with the rain. Based on Machine Learning technologies for image recognition, (t)Rain leaves the user in command. Each player decides on his own what pose, face or movement will stop the rain.
Medias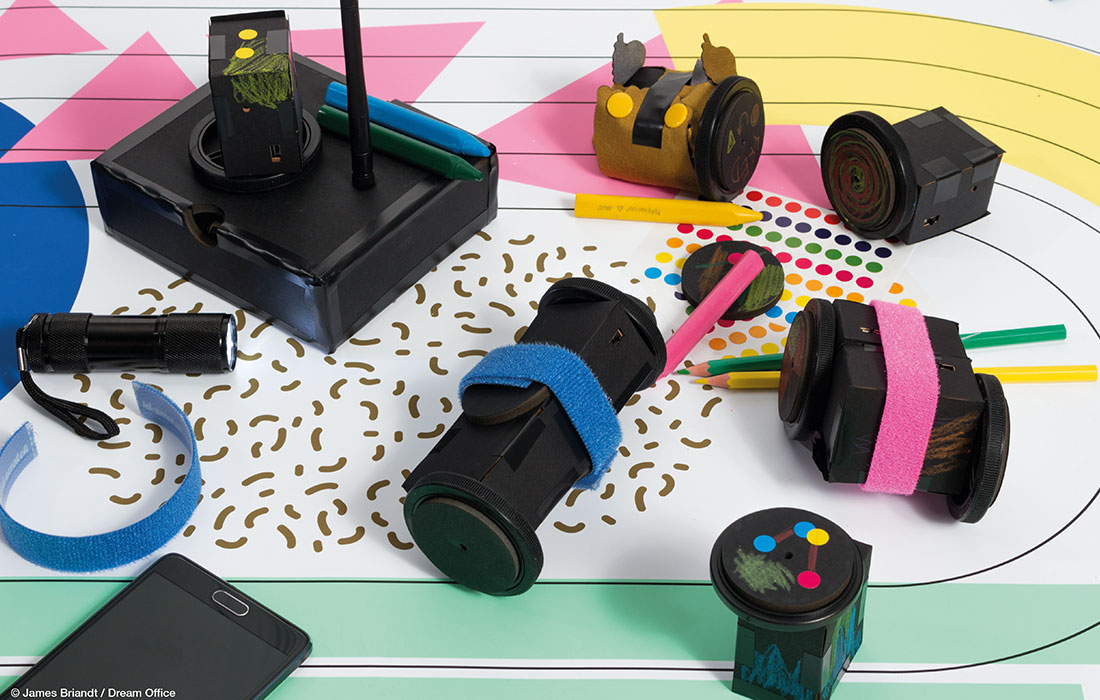 The company
Orange
The team is part of the Research Lab SENSE (Sociolgy and Economics of Networks and Services).
The SENSE Lab's mission is the study of usages, organizations and digital markets to accompany innovation in the Orange Group. The Researchers of the lab have various profiles in Social and Human Science (mainly sociology, socio-economy, ergonomy, design) and combine different methodologic approaches (qualitative and quantitative) .
Design is used as a Recherche Action method. The objects created by the team are made to reflect our digital environment. Materializing digital concepts helps to reveal in a tangible way usages and user activity.
The projects presented at the KiKK festival invite to real sensitive experiences and allow the public to question itself and find the means to act.
Black Out and Hack Go Black reveal in a fun and offbeat way the invisible side of the data collected by our mobile devices.
I.A Ex Machines an (t)Rain give an inside view of machine learning, artificial intelligence with learning ability.