Market
The chronicles of Montcalm
Parenthèse 9 - CA
Hours and dates
From 1 Nov 2018 to 2 Nov 2018 / from 10:00 to 18:00
About
The chronicles of Montcalm
THE CHRONICLES OF MONTCALM, a comic in augmented reality. They are residents of Montcalm neighborhood in Quebec City. A man and a woman. Two destinies that evolve in parallel in the same places, faced with the same events between leisure and work. The Chronicles of Montcalm is their story, or rather their stories, in comics - a series of anecdotes and moments, sometimes anchored in reality, sometimes allowing themselves to use a bit of fantasy. Scattered on Cartier Avenue, in Quebec City, 8 posters present 16 moments of their daily life for the public to discover. But beware! Although a few panels are visible to the naked eye, it is with a smartphone or tablet that we can discover these stories, from beginning to end, through augmented reality. The Chronicles of Montcalm, a production of Parenthèses 9, produced in collaboration with the Quartier des arts de Quebec - SDC Montcalm, with the financial support of the Cultural Development Agreement of the City of Quebec and Quebec's Ministry of Culture and Communications.
Medias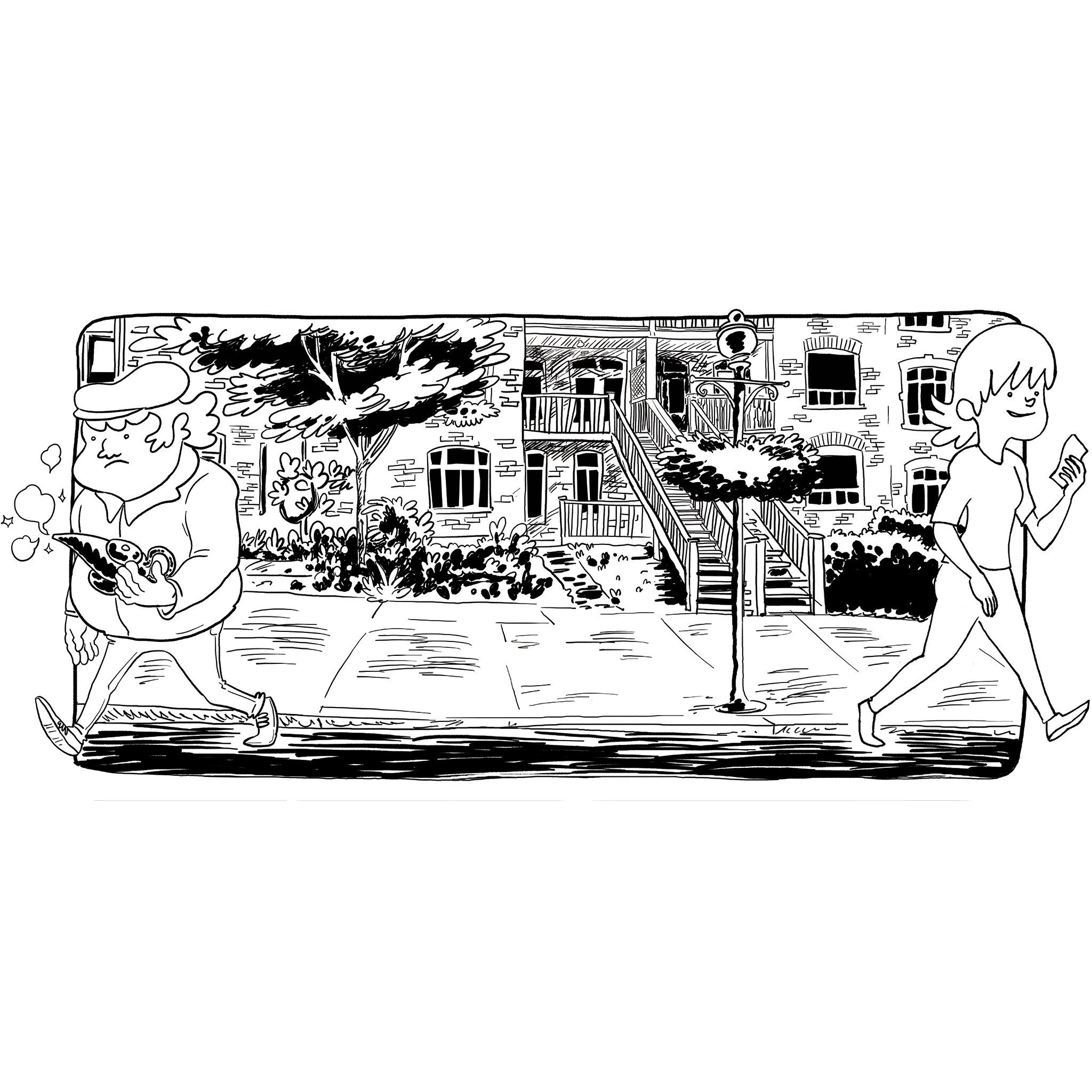 The company
Parenthèse 9
Since 2014, Parenthèses 9 has been working on "bringing comics out of the books", as well as developing and showcasing comics and illustrations in non-traditional contexts as well as as a performative tool.
Designers and illustrators were invited, always in an interdisciplinary or multidisciplinary perspective, to perform original and surprising creations live, in collaboration with creators of various disciplines - novelists, poets, mimes, visual or sound artists, digital designers, dancers , musicians, comedians, circus artists, storytellers and historians. In addition to its performative component, Parenthèses 9 also remains active in the development of exhibition concepts - in galleries or public spaces; thus, taking out of the books, the work of comic authors from Quebec. Sometimes displaying it in more classical ways and other times with the use of digital technology.